Diamond Emerald-Eyes's Blog Page

Diamond Emerald-Eyes's Blogs

| | |
| --- | --- |
| Oct 31, 2007 | Howl-&-Scream |
| Oct 30, 2007 | Beckoning Cat |
| Oct 28, 2007 | I'm a Lil' Devil |
| Oct 26, 2007 | Mousework |
| Oct 25, 2007 | Thursday Thirteen |
| Oct 24, 2007 | What Wednesday |
| Oct 23, 2007 | Nocturnal |
| Oct 22, 2007 | Terrifying! |
| Oct 15, 2007 | Restriction |
| Oct 10, 2007 | Wondering Wednesday |
| Sep 27, 2007 | Artwork & Shows |
| Sep 26, 2007 | Worn Out Wednesday |
| Sep 24, 2007 | Midnight Monday |
| Sep 23, 2007 | 7-things Sunday Me-me |
| Sep 22, 2007 | Wet Weekend! |
| Sep 20, 2007 | T13 |
| Sep 19, 2007 | Tale Lashings... |
| Sep 18, 2007 | Meow like a Pirate Day |
| Sep 17, 2007 | Tornado |
| Sep 11, 2007 | Dreaming |
| Sep 09, 2007 | 4:45 AM |
| Sep 04, 2007 | Fall |
| Aug 15, 2007 | Look! How Cute! |
| Aug 13, 2007 | Mighty Huntress |
| Aug 13, 2007 | Supper |
| Aug 13, 2007 | Kittenwar is now a book! |
| Aug 13, 2007 | Cat-ching up on Blog Entries |
| Aug 01, 2007 | Much Rain |
| Jul 27, 2007 | No strolling please! |
| Jul 19, 2007 | Pikapet is back! |
| Jul 18, 2007 | Stupid Petplaces |
| Jul 17, 2007 | Pikapet and contests |
| Jul 13, 2007 | Black Friday |
| Jul 09, 2007 | Looking out |
| Jul 05, 2007 | I'm an American Cat |
| Jul 05, 2007 | Cool Cat |
| Jun 30, 2007 | My Bean |
| Jun 29, 2007 | Fire Storm |
| Jun 16, 2007 | Cat Show |
| Jun 08, 2007 | Mug |
| Jun 02, 2007 | Rainout-ville |
| Jun 01, 2007 | Animal Magnatism |
| May 31, 2007 | Scout Night |
| May 30, 2007 | Job |
| May 29, 2007 | Boyfriend |
| May 17, 2007 | Toyz |
| May 10, 2007 | Black & White Dog |
| May 09, 2007 | Fires, fires everywhere |
| May 06, 2007 | The Kill |
| May 04, 2007 | Burn |
| May 02, 2007 | Big Bug |
| Apr 28, 2007 | Not king in my court! |
| Apr 15, 2007 | Catatonic |
| Apr 13, 2007 | Happy Special Black Cat Holiday! |
| Apr 12, 2007 | Video & Storm |
| Apr 10, 2007 | Pictures with little tent |
| Apr 10, 2007 | Little Tent |
| Apr 09, 2007 | Cat as Demigod |
| Apr 08, 2007 | Happy Eastern! |
| Apr 07, 2007 | Cold and Camera |
| Apr 06, 2007 | Happy Easter & Creative Ideas |
| Apr 05, 2007 | PetsPlaces.com |
| Apr 04, 2007 | Cuddling and Kittens |
| Apr 03, 2007 | Human Habits that drive Cats crazy |
| Apr 02, 2007 | Dry & matings |
| Mar 30, 2007 | Outside |
| Mar 28, 2007 | Me-Meow |
| Mar 28, 2007 | Pugle-Puss |
| Mar 27, 2007 | Catnip! & Odds & Ends |
| Mar 25, 2007 | Big Birds and Food |
| Mar 23, 2007 | Pet Food Recall |
| Mar 23, 2007 | Two Deaths |
| Mar 21, 2007 | Stinky the Rental Cat |
| Mar 20, 2007 | How to Discipline a Puppy |
| Mar 19, 2007 | Good Weekend |
| Mar 18, 2007 | Kitty Telepathy |
| Mar 17, 2007 | Domestic Cats in North America are Irish! |
| Mar 16, 2007 | You're a Tabby too! |
| Mar 15, 2007 | Florida Panthers (Puma concolor coryi) |
| Mar 13, 2007 | Tony at Pug Fest |
| Mar 08, 2007 | Do you have ESP? |
| Mar 05, 2007 | PugFest III to benefit annual Florida Reading |
| Feb 27, 2007 | Sick Human |
| Feb 26, 2007 | Bookish Cats |
| Feb 24, 2007 | Humans and Kittens |
| Feb 23, 2007 | February 27 is Spay Day |
| Feb 22, 2007 | Once you try black... |
» Back to Diamond Emerald-Eyes's Profile
Once you try black...


Thursday Feb 22, 2007 12:07:00 PM


There are many myths regarding Black Cats, but most of the ones in America are bad. A Black Cat crosses your path and you will have bad luck. Trust me, if I cross your path you will no worse luck than if a tabby crossed your path and in most cases, you would have better luck because you would get to meet Meow. And there is only one of Meow in the whole world so if you do not meet Meow, then that is your problem and your world will be a much sadder place.

Witches use Black Cats. My bean is not a witch. If she was a witch, she could use magic to wisk me up into the air to catch birds. This does not happen. I must climb trees. Therefore she is no witch.

Black Cats are the devil's creatures. Now that is just plain silly. You see angelic expression on my face and you would know I am no devil. This one come about, I think, from Christians, who think that anyone who not worship their own God must be worshipping devil.

Got news for you. Cats got their own God...Godess really. Oagans-Bast, who we call Bast, was mostly widely known in Egypt in the Twenty-Second Dynasty and was the official deity of Egypt. The Black Cat, not the Siamese, as many think, was the cat sacred to Bast and having a black cat in your home was sure to bring the blessings of the Godess there, granting you riches and prosperity. If nothing else, the cats ate the rodents that were eating your grain, so you probably were a bit more richer and prosperous. Hah!

In England it was believed that if you had black cat in the house, the young ladies of the house would not lack for suitors. Of course if they did, they would not lack for love, because you would have black cat to love you. We love very well.

Black Cat loved Charles I of England and was fiercely loyal and protective of his royal person. When the cat fell ill and died, Charles luck ran out. He was arrested for high treason and ultimately he was put to death.

Black kittens fetched high prices in the Yorkshires, as it was believed a black cat would bring fisherman home safely from the seas. Much catnapping occurred, as cats were stolen to be sold to highest bidder, usually the family of the fisherman. Black Cats also prevented disasters at seas, unless you threw one overboard, then you were just begging for trouble. (This is a good reason to share your life with a black cat if you live in Florida and own a boat!)

In many parts of Europe, a black cat crossing your path meant very good fortune. (Of course, you have the good fortune of making the acquaintance of the Black Cat.) If one walked into your house or home, you were truly blessed. (Of course, black cat ate rats and mice, making it a safe and happy home.)

Not all superstitions regarding cat were lucky...at least not to the cat. In Sumatra, villages that needed rain would throw black cat into the river and make it swim until almost exhausted before allowing it out of water. Then they would chase cat while throwing water on cat and themselves. This was supposed to bring rain. I don't know if it do that, but it certainly waste water, and bring blood when black cat scratch people that are treating it this way.

If you can find a white hair on an all black cat the white hair would bring you luck. This is kind of easy on me, as I have a couple of white spots. In Scottland, a strange black cat on your porch brings prosperity. Especially if cat move in, then you will have the great honor of sharing your living space with a wonderful and talented feline-bean.

If a black cat sneezes near a bride on her wedding day, she will have a happily married life. You might want to keep the cat too, and feed him well. Putting him or her in an empty cradle will grant a couple their wish for children.

Bast was also a Godess of love and fertility and black cats and fertility myths run through several cultures including Scandiavia, where it was a symbol of fertility, and in Hindu, where it was a symbol for childbirth.

Dreaming of different kinds of cat often mean different things, but dreaming of black cats is considered just plain lucky.

There is many more good myths about black cats. In Japan, for example, it is believed a black cat can lead you to treasure.

Black cats became unpopular in the middle ages with the whole witchcraft thing. Thank you Catholic church. Some bird-loving bishop not like cats or something. This ill-feeling toward black cats continues to modern days. While it is unfortunate that black cats are often maligned during the Halloween Season as being spooky, it doesn't bother me. After all, it makes coming up with a Halloween Costume very easy.

(Of course, Human-Beans got the whole idea of Halloween screwed up in the first place, but what can you do? They are just pitiful Humans. Just as they got the whole black cat crossing your path thing mixed up.)

Anyway, my point is, do not believe all the modern day hype about black cats. Black cats are the best cats. You could do much, much worse than having a black cat share your life with you. If you are looking for a cat, consider adopting a black one from your local shelter. You will get a lovely and loving, engaging companion who will bring you rain when you need it, grant you happy marriage, many children, lead you to treasure and keep your boat safe in a storm, for we are the sacred cats of Bast and you just can't go wrong with a Godess behind you!

If they not have any black cats...well, then you can get a tabby. I like tabbies. They are nice cats too.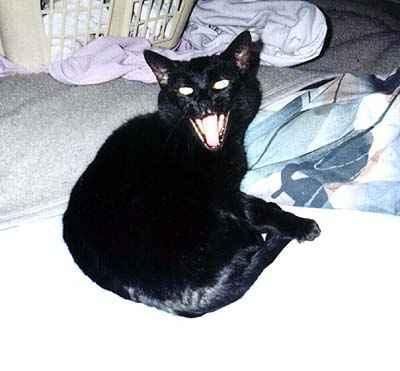 Post Comment
If you wish to post comments. You must first log in.
Comments


Posted By:
2007/07/04 04:06:04 PM
that was fun to read:)


Posted By:
2007/06/16 12:00:25 PM
that was me >o


Posted By:
2007/06/16 12:00:14 PM
last halloween by our place a black cat was slaughtered D: it was a very sad experience..*no i havent seen it, but heard of it* black cats are no more diff. then any other cat xP


Posted By: Belle
2007/02/22 09:55:48 PM
Of course, all cats are devine...


Posted By: Fade
2007/02/22 06:40:52 PM
wait..what?


Posted By: Kifa ♥
2007/02/22 04:22:01 PM
Haha. very true!