Diamond Emerald-Eyes's Blog Page

Diamond Emerald-Eyes's Blogs

| | |
| --- | --- |
| Oct 31, 2007 | Howl-&-Scream |
| Oct 30, 2007 | Beckoning Cat |
| Oct 28, 2007 | I'm a Lil' Devil |
| Oct 26, 2007 | Mousework |
| Oct 25, 2007 | Thursday Thirteen |
| Oct 24, 2007 | What Wednesday |
| Oct 23, 2007 | Nocturnal |
| Oct 22, 2007 | Terrifying! |
| Oct 15, 2007 | Restriction |
| Oct 10, 2007 | Wondering Wednesday |
| Sep 27, 2007 | Artwork & Shows |
| Sep 26, 2007 | Worn Out Wednesday |
| Sep 24, 2007 | Midnight Monday |
| Sep 23, 2007 | 7-things Sunday Me-me |
| Sep 22, 2007 | Wet Weekend! |
| Sep 20, 2007 | T13 |
| Sep 19, 2007 | Tale Lashings... |
| Sep 18, 2007 | Meow like a Pirate Day |
| Sep 17, 2007 | Tornado |
| Sep 11, 2007 | Dreaming |
| Sep 09, 2007 | 4:45 AM |
| Sep 04, 2007 | Fall |
| Aug 15, 2007 | Look! How Cute! |
| Aug 13, 2007 | Mighty Huntress |
| Aug 13, 2007 | Supper |
| Aug 13, 2007 | Kittenwar is now a book! |
| Aug 13, 2007 | Cat-ching up on Blog Entries |
| Aug 01, 2007 | Much Rain |
| Jul 27, 2007 | No strolling please! |
| Jul 19, 2007 | Pikapet is back! |
| Jul 18, 2007 | Stupid Petplaces |
| Jul 17, 2007 | Pikapet and contests |
| Jul 13, 2007 | Black Friday |
| Jul 09, 2007 | Looking out |
| Jul 05, 2007 | I'm an American Cat |
| Jul 05, 2007 | Cool Cat |
| Jun 30, 2007 | My Bean |
| Jun 29, 2007 | Fire Storm |
| Jun 16, 2007 | Cat Show |
| Jun 08, 2007 | Mug |
| Jun 02, 2007 | Rainout-ville |
| Jun 01, 2007 | Animal Magnatism |
| May 31, 2007 | Scout Night |
| May 30, 2007 | Job |
| May 29, 2007 | Boyfriend |
| May 17, 2007 | Toyz |
| May 10, 2007 | Black & White Dog |
| May 09, 2007 | Fires, fires everywhere |
| May 06, 2007 | The Kill |
| May 04, 2007 | Burn |
| May 02, 2007 | Big Bug |
| Apr 28, 2007 | Not king in my court! |
| Apr 15, 2007 | Catatonic |
| Apr 13, 2007 | Happy Special Black Cat Holiday! |
| Apr 12, 2007 | Video & Storm |
| Apr 10, 2007 | Pictures with little tent |
| Apr 10, 2007 | Little Tent |
| Apr 09, 2007 | Cat as Demigod |
| Apr 08, 2007 | Happy Eastern! |
| Apr 07, 2007 | Cold and Camera |
| Apr 06, 2007 | Happy Easter & Creative Ideas |
| Apr 05, 2007 | PetsPlaces.com |
| Apr 04, 2007 | Cuddling and Kittens |
| Apr 03, 2007 | Human Habits that drive Cats crazy |
| Apr 02, 2007 | Dry & matings |
| Mar 30, 2007 | Outside |
| Mar 28, 2007 | Me-Meow |
| Mar 28, 2007 | Pugle-Puss |
| Mar 27, 2007 | Catnip! & Odds & Ends |
| Mar 25, 2007 | Big Birds and Food |
| Mar 23, 2007 | Pet Food Recall |
| Mar 23, 2007 | Two Deaths |
| Mar 21, 2007 | Stinky the Rental Cat |
| Mar 20, 2007 | How to Discipline a Puppy |
| Mar 19, 2007 | Good Weekend |
| Mar 18, 2007 | Kitty Telepathy |
| Mar 17, 2007 | Domestic Cats in North America are Irish! |
| Mar 16, 2007 | You're a Tabby too! |
| Mar 15, 2007 | Florida Panthers (Puma concolor coryi) |
| Mar 13, 2007 | Tony at Pug Fest |
| Mar 08, 2007 | Do you have ESP? |
| Mar 05, 2007 | PugFest III to benefit annual Florida Reading |
| Feb 27, 2007 | Sick Human |
| Feb 26, 2007 | Bookish Cats |
| Feb 24, 2007 | Humans and Kittens |
| Feb 23, 2007 | February 27 is Spay Day |
| Feb 22, 2007 | Once you try black... |
» Back to Diamond Emerald-Eyes's Profile
Tony at Pug Fest


Tuesday Mar 13, 2007 08:55:00 AM


My Bean says "I can put your harness and leash on you and take you to see your friend Tony, at Pug Fest." I said "Yes, and I can scratch your eyes out too." That pretty much ended that silly idea she had. I knew she would take camera though, so here are some pictures of friend Tony, the Irish Pug, at Pug Fest: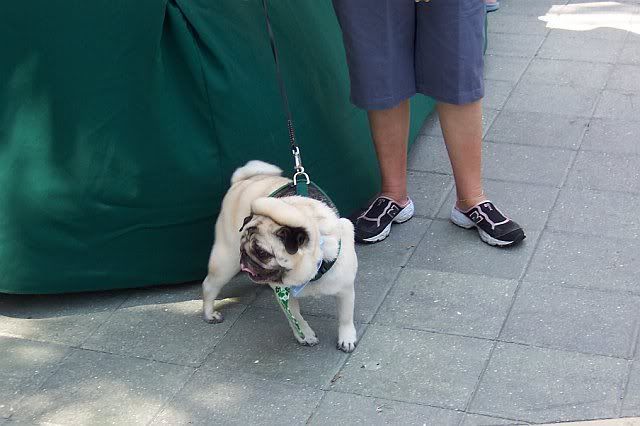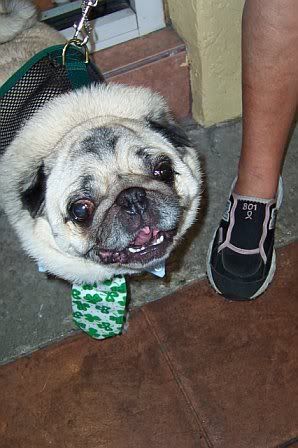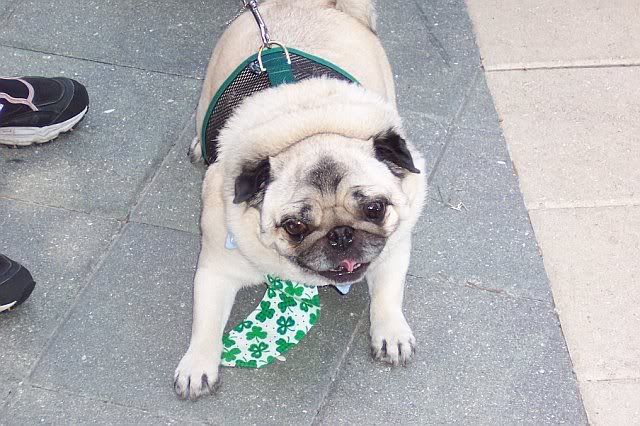 I put more pictures in Xanga album, and I will more pictures of other cute Pugs from Pug Fest soon.
Post Comment
If you wish to post comments. You must first log in.
Comments