Diamond Emerald-Eyes's Blog Page

Diamond Emerald-Eyes's Blogs

| | |
| --- | --- |
| Oct 31, 2007 | Howl-&-Scream |
| Oct 30, 2007 | Beckoning Cat |
| Oct 28, 2007 | I'm a Lil' Devil |
| Oct 26, 2007 | Mousework |
| Oct 25, 2007 | Thursday Thirteen |
| Oct 24, 2007 | What Wednesday |
| Oct 23, 2007 | Nocturnal |
| Oct 22, 2007 | Terrifying! |
| Oct 15, 2007 | Restriction |
| Oct 10, 2007 | Wondering Wednesday |
| Sep 27, 2007 | Artwork & Shows |
| Sep 26, 2007 | Worn Out Wednesday |
| Sep 24, 2007 | Midnight Monday |
| Sep 23, 2007 | 7-things Sunday Me-me |
| Sep 22, 2007 | Wet Weekend! |
| Sep 20, 2007 | T13 |
| Sep 19, 2007 | Tale Lashings... |
| Sep 18, 2007 | Meow like a Pirate Day |
| Sep 17, 2007 | Tornado |
| Sep 11, 2007 | Dreaming |
| Sep 09, 2007 | 4:45 AM |
| Sep 04, 2007 | Fall |
| Aug 15, 2007 | Look! How Cute! |
| Aug 13, 2007 | Mighty Huntress |
| Aug 13, 2007 | Supper |
| Aug 13, 2007 | Kittenwar is now a book! |
| Aug 13, 2007 | Cat-ching up on Blog Entries |
| Aug 01, 2007 | Much Rain |
| Jul 27, 2007 | No strolling please! |
| Jul 19, 2007 | Pikapet is back! |
| Jul 18, 2007 | Stupid Petplaces |
| Jul 17, 2007 | Pikapet and contests |
| Jul 13, 2007 | Black Friday |
| Jul 09, 2007 | Looking out |
| Jul 05, 2007 | I'm an American Cat |
| Jul 05, 2007 | Cool Cat |
| Jun 30, 2007 | My Bean |
| Jun 29, 2007 | Fire Storm |
| Jun 16, 2007 | Cat Show |
| Jun 08, 2007 | Mug |
| Jun 02, 2007 | Rainout-ville |
| Jun 01, 2007 | Animal Magnatism |
| May 31, 2007 | Scout Night |
| May 30, 2007 | Job |
| May 29, 2007 | Boyfriend |
| May 17, 2007 | Toyz |
| May 10, 2007 | Black & White Dog |
| May 09, 2007 | Fires, fires everywhere |
| May 06, 2007 | The Kill |
| May 04, 2007 | Burn |
| May 02, 2007 | Big Bug |
| Apr 28, 2007 | Not king in my court! |
| Apr 15, 2007 | Catatonic |
| Apr 13, 2007 | Happy Special Black Cat Holiday! |
| Apr 12, 2007 | Video & Storm |
| Apr 10, 2007 | Pictures with little tent |
| Apr 10, 2007 | Little Tent |
| Apr 09, 2007 | Cat as Demigod |
| Apr 08, 2007 | Happy Eastern! |
| Apr 07, 2007 | Cold and Camera |
| Apr 06, 2007 | Happy Easter & Creative Ideas |
| Apr 05, 2007 | PetsPlaces.com |
| Apr 04, 2007 | Cuddling and Kittens |
| Apr 03, 2007 | Human Habits that drive Cats crazy |
| Apr 02, 2007 | Dry & matings |
| Mar 30, 2007 | Outside |
| Mar 28, 2007 | Me-Meow |
| Mar 28, 2007 | Pugle-Puss |
| Mar 27, 2007 | Catnip! & Odds & Ends |
| Mar 25, 2007 | Big Birds and Food |
| Mar 23, 2007 | Pet Food Recall |
| Mar 23, 2007 | Two Deaths |
| Mar 21, 2007 | Stinky the Rental Cat |
| Mar 20, 2007 | How to Discipline a Puppy |
| Mar 19, 2007 | Good Weekend |
| Mar 18, 2007 | Kitty Telepathy |
| Mar 17, 2007 | Domestic Cats in North America are Irish! |
| Mar 16, 2007 | You're a Tabby too! |
| Mar 15, 2007 | Florida Panthers (Puma concolor coryi) |
| Mar 13, 2007 | Tony at Pug Fest |
| Mar 08, 2007 | Do you have ESP? |
| Mar 05, 2007 | PugFest III to benefit annual Florida Reading |
| Feb 27, 2007 | Sick Human |
| Feb 26, 2007 | Bookish Cats |
| Feb 24, 2007 | Humans and Kittens |
| Feb 23, 2007 | February 27 is Spay Day |
| Feb 22, 2007 | Once you try black... |
» Back to Diamond Emerald-Eyes's Profile
Florida Panthers (Puma concolor coryi)


Thursday Mar 15, 2007 09:34:00 AM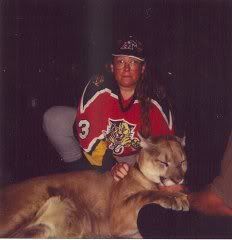 My friend Torti, on Petster, made a comment about my Bean playing with a Mountain Lion. Bean is not playing with Mountain Lion in her pictures, she is playing with Florida Panthers.

Tortis says "Mtn. Lion ?, Fla Panther ?...they look the same to me !!..." so in order to help out Torti and anyone else who might be wondering about them, there are some differences between a Florida Panther and a mountain lion.

The Florida Panther (Puma concolor coryi) is one of more than 20 subspecies of cougar (Puma concolor). Until 1993, the cougar was classified in the genus Felis along with the domestic cat, the ocelot, and 27 other species. In 1993 the cougar was reassigned to the genus Puma. (So we was once close cousins, now we are not quite as close cousins as we were.)

You can not really call them mountain lions, because there are no mountains in Florida. In fact, there are not any really big hills. I suppose you COULD call them Swamp Lions, if you wanted to, but Florida Panther what their real name is.

Concolor means one color. Cougar adults are a uniform tawny color with lighter fur on their lower chests, belly, and inner legs. Shades of individual animals may vary considerably from grayish to reddish to yellowish. Kittens are born with spotted coats that fade to the tawny color as they mature.

The subspecies name coryi comes from naturalist and hunter Charles Barney Cory who first described the panther as a subspecies of cougar in 1896 in Hunting and Fishing in Florida. He named it Felis concolor floridana, but floridana had already been used for a subspecies of bobcat so scientists changed the name to Felis concolor coryi.

The Florida Panther has been isolated from other Puma populations for at least 100 years, and so there are some physical differences between Florida Panthers and the typical Western Cougar.

The Florida Panther is smaller than the cougars in the West and has longer legs, smaller feet, and a shorter darker coat. In 1896 Cory described the coat as "more rufous or reddish brown" than more northern cats. Male panthers are larger than female panthers. They weigh from 100 to 150 pounds; female panthers weigh between 60 and 100 pounds. Panthers vary in height at the shoulder from about 2 to 2 1/2 feet and measure from 40 to 80 inches from nose to tip of tail. (I am only about 1 foot tall at the shoulder and weight about 12 pounds, so they are much bigger than I am!) Male cougars in western states stand almost 3 foot tall at the shoulders and may exceed 98 inches in length.

The skull of the Florida Panther is distinct from other subspecies of cougar. It is relatively broad and flat with highly arched nasal bones, giving the face a roman-nosed appearance.

The Florida Panther also often has a right angle crook between the second and third vertebrae from the end of its tail, a whorl of hair or a "cowlick" in the middle of its back, and white flecks in the fur on its neck. The crook in the tail and the whorl of hair may be the result of inbreeding within a small population and are not defining characteristics of the subspecies. Kinked tails and whorls have been reported in other subspecies of cougar, but in much lower frequencies. The white flecks in the coat on the neck are thought to be the result of tick bites.

Genetic studies have revealed that panthers in South Florida, where I live, may belong to two distinct stocks: those in the Everglades and those in Big Cypress. Everglades cats may be descended from seven captive South American cats released into Everglades National Park between 1957 and 1967 from the Piper Collection of Everglades Wonder Gardens.

This idea is supported by an absence of kinked tails in the Everglades population.

Florida Panther once ranged through much southeastern United States from Louisiana through Tennessee. Currently, only about 70 adult panthers remain in national and state parks and nearby private lands in southwest Florida, making them among the most endangered animals in the world. A few individuals have been reported in Southeastern Georgia as well, but these are generally limited sightings and Georgia is not considered part of the current range of the Florida Panther.

Panthers are strictly carnivores: they only eat meat. About 90 % of their diet is feral hog, white-tailed deer, raccoon, and armadillo. Occasionally they consume rabbits, rats, and birds, and on rare occasion alligators.

Panthers feeding on large prey are heavier and healthier than those that feed on small prey. A panther has to kill and eat about 10 raccoons to equal the food value of 1 deer. To maintain their health and fitness, adult panthers need to consume 1 deer or hog per week. Females with kittens may need twice this amount. Juvenile kittens, like teenagers, need more food than younger kittens.

Florida Panthers are shy and usually avoid people. There are no documented cases of a Florida Panther attacking a person. Other kinds of cougars have on rare occasion attacked and killed people. Between 1900 and 1995 cougars killed 11 people in North America. Your chances of being killed by a cougar are far less than your chance of becoming a victim of lightning, honeybees, moose, deer, pit bulls, football, snow-shoveling or crossing the street in front of your house.

If you ever feel threatened by a cougar, you should stand firm, yell and fight back. Don't play dead. Never turn your back and run. Running triggers a chase instinct in cats and other predators. Crouching may also trigger attacks. Cougars are generally intimidated by humans standing upright. Put small children on your shoulders. Dogs may attract cougars. So if you're in cougar country, leave pets at home.

(Much of this information was taken from Florida Panther Net, which includes all sort of intersting facts on these cats.)

The Panthers that my Bean is playing with are part of a captive breeding program and travel the state to promote Florida Panther conservation. Money to keep them is by private donation, although Florida Panther conservation is also promoted through the sale of Florida Panther license plates in Florida.

It is noted that the Panthers in these pictures are really well behaved and are just really big babies, and that Bean was never in any danger while she was playing with them. Some of them like to play in the pool with their human attendants. However, private individuals should not keep Florida Panthers unless they are trained to care for their special needs and can provide adequate housing and food for the animals. You will also need a special Exotic Animal permit to keep a Florida Panther as a pet. It is much better to find a gold domestic cat at your local shelter, and adopt him and give him a good home, than it would be to try to keep a Florida Panther as a pet.

Bean is wearing a Florida Panthers sweater in this picture. The Florida Panthers hockey team takes there name from the animal, and has also raised money to help the conservation efforts so that Florida Panthers will be part of the Florida Ecosystem for generations to come.


Post Comment
If you wish to post comments. You must first log in.
Comments


Posted By: Belle
2007/03/16 11:53:17 PM
We do have cougars out here. One actually took a stroll through the apartment complex our humans lived in while the house was under construction. It was an amazing sight. All the wild life around here is why all 5 of us have to stay indoors....


Posted By: Kifa ♥
2007/03/15 12:37:18 PM
Oh my! Sissy finally learned something today. lol. I'll keep this blog in mind for later xP