Diamond Emerald-Eyes's Blog Page

Diamond Emerald-Eyes's Blogs

| | |
| --- | --- |
| Oct 31, 2007 | Howl-&-Scream |
| Oct 30, 2007 | Beckoning Cat |
| Oct 28, 2007 | I'm a Lil' Devil |
| Oct 26, 2007 | Mousework |
| Oct 25, 2007 | Thursday Thirteen |
| Oct 24, 2007 | What Wednesday |
| Oct 23, 2007 | Nocturnal |
| Oct 22, 2007 | Terrifying! |
| Oct 15, 2007 | Restriction |
| Oct 10, 2007 | Wondering Wednesday |
| Sep 27, 2007 | Artwork & Shows |
| Sep 26, 2007 | Worn Out Wednesday |
| Sep 24, 2007 | Midnight Monday |
| Sep 23, 2007 | 7-things Sunday Me-me |
| Sep 22, 2007 | Wet Weekend! |
| Sep 20, 2007 | T13 |
| Sep 19, 2007 | Tale Lashings... |
| Sep 18, 2007 | Meow like a Pirate Day |
| Sep 17, 2007 | Tornado |
| Sep 11, 2007 | Dreaming |
| Sep 09, 2007 | 4:45 AM |
| Sep 04, 2007 | Fall |
| Aug 15, 2007 | Look! How Cute! |
| Aug 13, 2007 | Mighty Huntress |
| Aug 13, 2007 | Supper |
| Aug 13, 2007 | Kittenwar is now a book! |
| Aug 13, 2007 | Cat-ching up on Blog Entries |
| Aug 01, 2007 | Much Rain |
| Jul 27, 2007 | No strolling please! |
| Jul 19, 2007 | Pikapet is back! |
| Jul 18, 2007 | Stupid Petplaces |
| Jul 17, 2007 | Pikapet and contests |
| Jul 13, 2007 | Black Friday |
| Jul 09, 2007 | Looking out |
| Jul 05, 2007 | I'm an American Cat |
| Jul 05, 2007 | Cool Cat |
| Jun 30, 2007 | My Bean |
| Jun 29, 2007 | Fire Storm |
| Jun 16, 2007 | Cat Show |
| Jun 08, 2007 | Mug |
| Jun 02, 2007 | Rainout-ville |
| Jun 01, 2007 | Animal Magnatism |
| May 31, 2007 | Scout Night |
| May 30, 2007 | Job |
| May 29, 2007 | Boyfriend |
| May 17, 2007 | Toyz |
| May 10, 2007 | Black & White Dog |
| May 09, 2007 | Fires, fires everywhere |
| May 06, 2007 | The Kill |
| May 04, 2007 | Burn |
| May 02, 2007 | Big Bug |
| Apr 28, 2007 | Not king in my court! |
| Apr 15, 2007 | Catatonic |
| Apr 13, 2007 | Happy Special Black Cat Holiday! |
| Apr 12, 2007 | Video & Storm |
| Apr 10, 2007 | Pictures with little tent |
| Apr 10, 2007 | Little Tent |
| Apr 09, 2007 | Cat as Demigod |
| Apr 08, 2007 | Happy Eastern! |
| Apr 07, 2007 | Cold and Camera |
| Apr 06, 2007 | Happy Easter & Creative Ideas |
| Apr 05, 2007 | PetsPlaces.com |
| Apr 04, 2007 | Cuddling and Kittens |
| Apr 03, 2007 | Human Habits that drive Cats crazy |
| Apr 02, 2007 | Dry & matings |
| Mar 30, 2007 | Outside |
| Mar 28, 2007 | Me-Meow |
| Mar 28, 2007 | Pugle-Puss |
| Mar 27, 2007 | Catnip! & Odds & Ends |
| Mar 25, 2007 | Big Birds and Food |
| Mar 23, 2007 | Pet Food Recall |
| Mar 23, 2007 | Two Deaths |
| Mar 21, 2007 | Stinky the Rental Cat |
| Mar 20, 2007 | How to Discipline a Puppy |
| Mar 19, 2007 | Good Weekend |
| Mar 18, 2007 | Kitty Telepathy |
| Mar 17, 2007 | Domestic Cats in North America are Irish! |
| Mar 16, 2007 | You're a Tabby too! |
| Mar 15, 2007 | Florida Panthers (Puma concolor coryi) |
| Mar 13, 2007 | Tony at Pug Fest |
| Mar 08, 2007 | Do you have ESP? |
| Mar 05, 2007 | PugFest III to benefit annual Florida Reading |
| Feb 27, 2007 | Sick Human |
| Feb 26, 2007 | Bookish Cats |
| Feb 24, 2007 | Humans and Kittens |
| Feb 23, 2007 | February 27 is Spay Day |
| Feb 22, 2007 | Once you try black... |
» Back to Diamond Emerald-Eyes's Profile
Much Rain


Wednesday Aug 01, 2007 02:34:00 PM


I go outside to used bathroom and it raining. I come back in when Bean get ready to go to work and she say "Pikapet is not working."

"What! What! What!" I say. I cannot believe this. Sarah-Dippy break, I just know it. Now what am I going to do all day?

It has been raining a lot. I rain last Friday for Dog Daze at Baseball Game. Human says "Lots of dogs, lightning, rain, and very little room led quickly to a Mike Vick promotion at Hammond Stadium." Yahoo.

She say they have Canine Coach out, do tricks with dogs on field and also one of the local agencies do adopt-a-dog. "Single Labby looking for long term relationship with fun loving human..." etc.

Plush Brother does not get into dog fights. Reptar also stay out of fights, but was not very happy 'bout all the rain.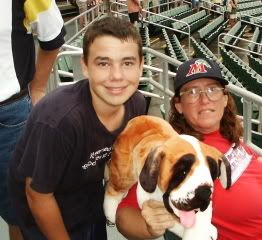 Jeff-Jeff, plush brother St. Valentine of the Snows, and Bean.
However, Bean sure look like she might bite someone in this picture, don't you think?
There was discussion on it dogs and Cats have sense of humor, and I say "Of course we do. We live with humans don't we?"
I hope it stop raining so I can go camping with my scouts. That is coming up. I will have to go in car to go to campground, but even though I do not like to go in car, I look forword to camping. The Bar-B-Que my scouts will give me will almost make up for going in car just by itself!
Post Comment
If you wish to post comments. You must first log in.
Comments