Diamond Emerald-Eyes's Blog Page

Diamond Emerald-Eyes's Blogs

| | |
| --- | --- |
| Oct 31, 2007 | Howl-&-Scream |
| Oct 30, 2007 | Beckoning Cat |
| Oct 28, 2007 | I'm a Lil' Devil |
| Oct 26, 2007 | Mousework |
| Oct 25, 2007 | Thursday Thirteen |
| Oct 24, 2007 | What Wednesday |
| Oct 23, 2007 | Nocturnal |
| Oct 22, 2007 | Terrifying! |
| Oct 15, 2007 | Restriction |
| Oct 10, 2007 | Wondering Wednesday |
| Sep 27, 2007 | Artwork & Shows |
| Sep 26, 2007 | Worn Out Wednesday |
| Sep 24, 2007 | Midnight Monday |
| Sep 23, 2007 | 7-things Sunday Me-me |
| Sep 22, 2007 | Wet Weekend! |
| Sep 20, 2007 | T13 |
| Sep 19, 2007 | Tale Lashings... |
| Sep 18, 2007 | Meow like a Pirate Day |
| Sep 17, 2007 | Tornado |
| Sep 11, 2007 | Dreaming |
| Sep 09, 2007 | 4:45 AM |
| Sep 04, 2007 | Fall |
| Aug 15, 2007 | Look! How Cute! |
| Aug 13, 2007 | Mighty Huntress |
| Aug 13, 2007 | Supper |
| Aug 13, 2007 | Kittenwar is now a book! |
| Aug 13, 2007 | Cat-ching up on Blog Entries |
| Aug 01, 2007 | Much Rain |
| Jul 27, 2007 | No strolling please! |
| Jul 19, 2007 | Pikapet is back! |
| Jul 18, 2007 | Stupid Petplaces |
| Jul 17, 2007 | Pikapet and contests |
| Jul 13, 2007 | Black Friday |
| Jul 09, 2007 | Looking out |
| Jul 05, 2007 | I'm an American Cat |
| Jul 05, 2007 | Cool Cat |
| Jun 30, 2007 | My Bean |
| Jun 29, 2007 | Fire Storm |
| Jun 16, 2007 | Cat Show |
| Jun 08, 2007 | Mug |
| Jun 02, 2007 | Rainout-ville |
| Jun 01, 2007 | Animal Magnatism |
| May 31, 2007 | Scout Night |
| May 30, 2007 | Job |
| May 29, 2007 | Boyfriend |
| May 17, 2007 | Toyz |
| May 10, 2007 | Black & White Dog |
| May 09, 2007 | Fires, fires everywhere |
| May 06, 2007 | The Kill |
| May 04, 2007 | Burn |
| May 02, 2007 | Big Bug |
| Apr 28, 2007 | Not king in my court! |
| Apr 15, 2007 | Catatonic |
| Apr 13, 2007 | Happy Special Black Cat Holiday! |
| Apr 12, 2007 | Video & Storm |
| Apr 10, 2007 | Pictures with little tent |
| Apr 10, 2007 | Little Tent |
| Apr 09, 2007 | Cat as Demigod |
| Apr 08, 2007 | Happy Eastern! |
| Apr 07, 2007 | Cold and Camera |
| Apr 06, 2007 | Happy Easter & Creative Ideas |
| Apr 05, 2007 | PetsPlaces.com |
| Apr 04, 2007 | Cuddling and Kittens |
| Apr 03, 2007 | Human Habits that drive Cats crazy |
| Apr 02, 2007 | Dry & matings |
| Mar 30, 2007 | Outside |
| Mar 28, 2007 | Me-Meow |
| Mar 28, 2007 | Pugle-Puss |
| Mar 27, 2007 | Catnip! & Odds & Ends |
| Mar 25, 2007 | Big Birds and Food |
| Mar 23, 2007 | Pet Food Recall |
| Mar 23, 2007 | Two Deaths |
| Mar 21, 2007 | Stinky the Rental Cat |
| Mar 20, 2007 | How to Discipline a Puppy |
| Mar 19, 2007 | Good Weekend |
| Mar 18, 2007 | Kitty Telepathy |
| Mar 17, 2007 | Domestic Cats in North America are Irish! |
| Mar 16, 2007 | You're a Tabby too! |
| Mar 15, 2007 | Florida Panthers (Puma concolor coryi) |
| Mar 13, 2007 | Tony at Pug Fest |
| Mar 08, 2007 | Do you have ESP? |
| Mar 05, 2007 | PugFest III to benefit annual Florida Reading |
| Feb 27, 2007 | Sick Human |
| Feb 26, 2007 | Bookish Cats |
| Feb 24, 2007 | Humans and Kittens |
| Feb 23, 2007 | February 27 is Spay Day |
| Feb 22, 2007 | Once you try black... |
» Back to Diamond Emerald-Eyes's Profile
Artwork & Shows


Thursday Sep 27, 2007 12:14:00 PM


Going on the belief that even the smallest cat is a masterpiece, and that I was made by a Grand Master, Zoolatry has made me into an artwork!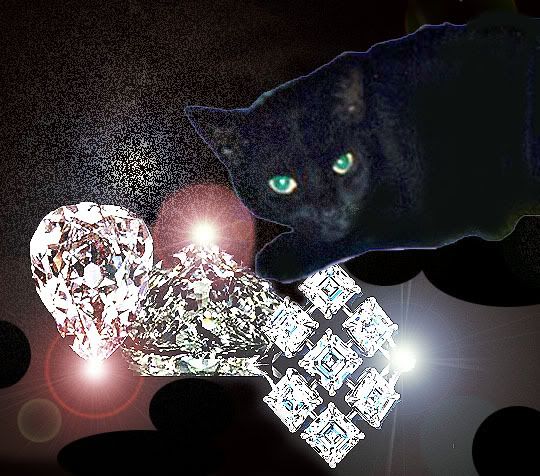 Meanwhile Sarah as made it onto Icanhascheezburger.com. With Sarah though, she wants cheezwiz burger.




Last night I get new food - Purina Pro Plan Salmon and Rice crunch. Bean had give me Market Selects before she started pooring the new stuff into my feeder and at that point I suddenly just ignored the wet and started vacumming up the new stuff. Very good. I also get Mini-mice and feather butt mice. I almost forgive Bean for being being stupid.

But then she put Frontline in my furs and that did it. I hate that. Spent evening under bed. Best place to cat nap, they can't get at you with flashy box there.

Since she go to Pet Supermarket, she find out that the store on South Cleveland is doing vacinations on Sun., October 14 from 2:00 to 3:30 PM. Best not to go there, it will be packed. Unless you need vacine. You can find out more at www.animalhealth.cc.

I also want to mention there are two cat shows in Florida in October, both on the 20th and 21st. The CFA and Cats Exclusive, Inc., is holding one in Fort Lauderdale at the War Memorial Auditorium. You can call Ray Cherrington at 904-269-5871 for more information. The auditorium is on 800 NE 8th St, and the show hours are from 9 am to 4 pm.

TICA and Florida Sun Cats presents a show in Green cover Springs at the Clay County Fairgrounds, 2497 State Rd. 16 West. Same hours as the other show. Call Laura Heineck at 706-374-4216 for more information.

I am not sending Bean to either. Last show she go to, she nearly come home with a kitten! I wanted toys, not brudder!

(And before anyone jump down my throat about how terrible cat shows are, go visit Cats Exclusive website and learn something. If they so terrible, I do not think no kill shelter would be sponsoring one.)



Post Comment

If you wish to post comments. You must first log in.

Comments