Diamond Emerald-Eyes's Blog Page

Diamond Emerald-Eyes's Blogs

| | |
| --- | --- |
| Oct 31, 2007 | Howl-&-Scream |
| Oct 30, 2007 | Beckoning Cat |
| Oct 28, 2007 | I'm a Lil' Devil |
| Oct 26, 2007 | Mousework |
| Oct 25, 2007 | Thursday Thirteen |
| Oct 24, 2007 | What Wednesday |
| Oct 23, 2007 | Nocturnal |
| Oct 22, 2007 | Terrifying! |
| Oct 15, 2007 | Restriction |
| Oct 10, 2007 | Wondering Wednesday |
| Sep 27, 2007 | Artwork & Shows |
| Sep 26, 2007 | Worn Out Wednesday |
| Sep 24, 2007 | Midnight Monday |
| Sep 23, 2007 | 7-things Sunday Me-me |
| Sep 22, 2007 | Wet Weekend! |
| Sep 20, 2007 | T13 |
| Sep 19, 2007 | Tale Lashings... |
| Sep 18, 2007 | Meow like a Pirate Day |
| Sep 17, 2007 | Tornado |
| Sep 11, 2007 | Dreaming |
| Sep 09, 2007 | 4:45 AM |
| Sep 04, 2007 | Fall |
| Aug 15, 2007 | Look! How Cute! |
| Aug 13, 2007 | Mighty Huntress |
| Aug 13, 2007 | Supper |
| Aug 13, 2007 | Kittenwar is now a book! |
| Aug 13, 2007 | Cat-ching up on Blog Entries |
| Aug 01, 2007 | Much Rain |
| Jul 27, 2007 | No strolling please! |
| Jul 19, 2007 | Pikapet is back! |
| Jul 18, 2007 | Stupid Petplaces |
| Jul 17, 2007 | Pikapet and contests |
| Jul 13, 2007 | Black Friday |
| Jul 09, 2007 | Looking out |
| Jul 05, 2007 | I'm an American Cat |
| Jul 05, 2007 | Cool Cat |
| Jun 30, 2007 | My Bean |
| Jun 29, 2007 | Fire Storm |
| Jun 16, 2007 | Cat Show |
| Jun 08, 2007 | Mug |
| Jun 02, 2007 | Rainout-ville |
| Jun 01, 2007 | Animal Magnatism |
| May 31, 2007 | Scout Night |
| May 30, 2007 | Job |
| May 29, 2007 | Boyfriend |
| May 17, 2007 | Toyz |
| May 10, 2007 | Black & White Dog |
| May 09, 2007 | Fires, fires everywhere |
| May 06, 2007 | The Kill |
| May 04, 2007 | Burn |
| May 02, 2007 | Big Bug |
| Apr 28, 2007 | Not king in my court! |
| Apr 15, 2007 | Catatonic |
| Apr 13, 2007 | Happy Special Black Cat Holiday! |
| Apr 12, 2007 | Video & Storm |
| Apr 10, 2007 | Pictures with little tent |
| Apr 10, 2007 | Little Tent |
| Apr 09, 2007 | Cat as Demigod |
| Apr 08, 2007 | Happy Eastern! |
| Apr 07, 2007 | Cold and Camera |
| Apr 06, 2007 | Happy Easter & Creative Ideas |
| Apr 05, 2007 | PetsPlaces.com |
| Apr 04, 2007 | Cuddling and Kittens |
| Apr 03, 2007 | Human Habits that drive Cats crazy |
| Apr 02, 2007 | Dry & matings |
| Mar 30, 2007 | Outside |
| Mar 28, 2007 | Me-Meow |
| Mar 28, 2007 | Pugle-Puss |
| Mar 27, 2007 | Catnip! & Odds & Ends |
| Mar 25, 2007 | Big Birds and Food |
| Mar 23, 2007 | Pet Food Recall |
| Mar 23, 2007 | Two Deaths |
| Mar 21, 2007 | Stinky the Rental Cat |
| Mar 20, 2007 | How to Discipline a Puppy |
| Mar 19, 2007 | Good Weekend |
| Mar 18, 2007 | Kitty Telepathy |
| Mar 17, 2007 | Domestic Cats in North America are Irish! |
| Mar 16, 2007 | You're a Tabby too! |
| Mar 15, 2007 | Florida Panthers (Puma concolor coryi) |
| Mar 13, 2007 | Tony at Pug Fest |
| Mar 08, 2007 | Do you have ESP? |
| Mar 05, 2007 | PugFest III to benefit annual Florida Reading |
| Feb 27, 2007 | Sick Human |
| Feb 26, 2007 | Bookish Cats |
| Feb 24, 2007 | Humans and Kittens |
| Feb 23, 2007 | February 27 is Spay Day |
| Feb 22, 2007 | Once you try black... |
» Back to Diamond Emerald-Eyes's Profile
Nocturnal


Tuesday Oct 23, 2007 02:41:00 PM


I am nocturnal. Most cats are. By definition, these means we sleep during the daytime and are active at night. However, because we live with humans, we often get used to their time schedules.

Still, I tend to get up around 2 or 2:30 in the morning every day. Even when I am outside all day, I tend to catnap a lot on the porch, and so I'm still ready to get up in middle of the night.

If you think about it, it make sense for us to be nocturnal because we use stalk and ambush style of hunting and this is most effective in low light situations when we can hide. But even when I not hunting, I get up because I want to have a snack and to use the litter box.

Then I like to sit in the window and look outside. This is time of night when everything gets going outside. It is an interesting to sit there and watch these soap operas that humans find so facinating. I find out who is messing with who, and which males cats want to make kittens and which female cats want to make kittens and which cats do not like each other. We have lots of cats that live mainly outside so this is when the are most active.

Normally this would not be a problem but Bean like to sleep with bedroom door closed because it make it cooler with the Air Machine. It used to be should could not sleep with me, but I brainwash her and now she can not fall asleep without me in the bed with here. So when I want to get up, I have to wake her up to let me out of bedroom.

Anyway, my Bean have her purrrthday last Wednesday. We do not make big deal of it because she servent and I would not want her to get any ideas above her station. My purrrthday is next month, we will have big dinner for it and I will get many presents. But for her purrrthday we do not do much.

I wake her up 2:00 AM. We just finished reading "Dragons of the Dwarven Depths" (Weis & Hickman return to the Dragonlance series that they cut their writing teeth on 20 years ago) night before and somehow my badgering of her translated into a Dragon-Cat banging on the gates of Thorbardin in her dream.

I kind of like the idea of Dragon-cat! I make her draw a Dragon-cat for me!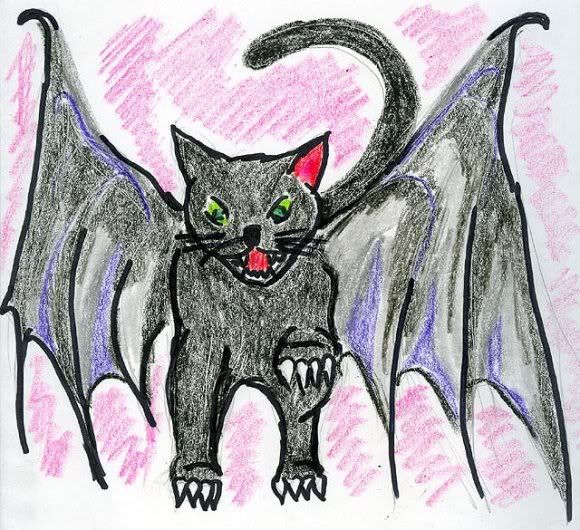 "You forget whiskers," I tell her. So she puts in whiskers. "Maybe I could have blood dripping off claws and could breath fire," I suggest. "No," she says.

NO???!!!

Any case, when I wake her up for her purrrthday she could not go back to sleep. She have noisy bone disease which the humans call arthritis. So I guess her bones hurt her, even when they not making noises like when she walk, so sometimes it hard for her to sleep. She take pill, but still could not fall back asleep.

Finally she give up trying, and decided to clean up the bookshelves and take a bunch of books over to One for the Books. This good idea as she can us more books with cats in them. Dragon book was okay, but it do not have any cats in it, not even Dragon-cats. She need to get us new Harry Potter book too. I want to know how story end.

No matter what you think it is not mean of me to wake her up though. She get up then and use her litter box too, so it good thing I wake her up. No telling what kind of mess she'd make otherwise.



Post Comment

If you wish to post comments. You must first log in.

Comments